Catch Internet Pvt. Ltd., in collaboration with NeueTuesday, launches a site for National Association of Recording Merchandisers (NARM) campaign for music known as Give the Gift of Music. The site features video testimonials from musical artists surrounding their experience with music as gift. The public can watch videos, create wish lists, share music memories, and browse NARM's music database.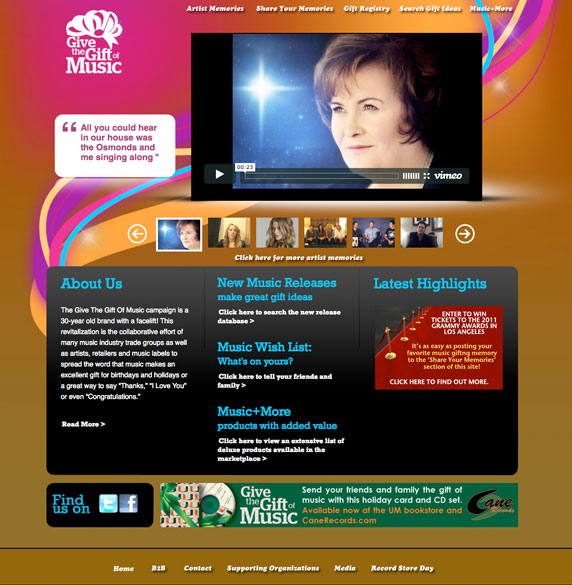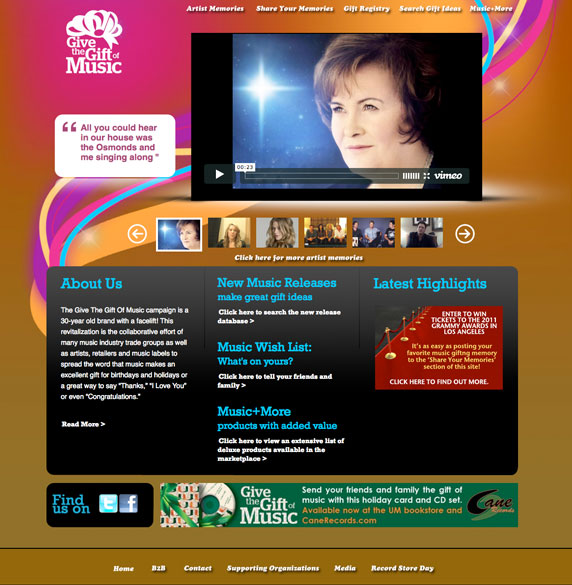 About Give the Gift of Music:
The Give The Gift Of Music campaign is a 30-year old brand with a facelift! This revitalization is the collaborative effort of many music industry trade groups as well as artists, retailers and music labels to spread the word that music makes an excellent gift for birthdays and holidays or a great way to say "Thanks," "I Love You" or even "Congratulations." In today's challenging economy, the gift of music is an inexpensive way to show someone that you care. Our goal is to educate you, as a music consumer, and more importantly, as a gift-giver, of the many music and music-related products that are available in the marketplace. Take a few minutes to explore the site, hear artists share stories about their favorite music gift, post your memories, join our social sites, send your music wish list to your family and friends, and search the new release database for exciting music-gifting ideas!
Technologies Used:
Photoshop, Dreamweaver, HTML, CSS, MySQL, PHP, jQuery, AJAX, WordPress